As we reach the mid-point of Q2 2021 it seems a good time to sum up fixed income markets year-to-date. As you can see in Figure 1, government bond yields are higher – with the US and, to an extent, the UK underperforming and up by more than 60 basis points. European yields, represented by German bunds, are much more stable. The chief reason for this is rising inflation expectations, especially in the US, where 10-year yields are up from 0.5% to 2.4% in around 14 months.
Other factors having an impact include: supply shortfalls as the US economy reopens – labour and microchips etc; rising commodity prices – for example the BCOM index is up nearly 50% year-on-year driven by rising demand expectations and dry weather; and President Biden's fiscal plan and the expected spend of accrued high savings, especially on services. However, the US Federal Reserve is telling us this is likely to be temporary, so there's no need to change policy conditions.
Figure 1: Change in 10-year government bond yields YTD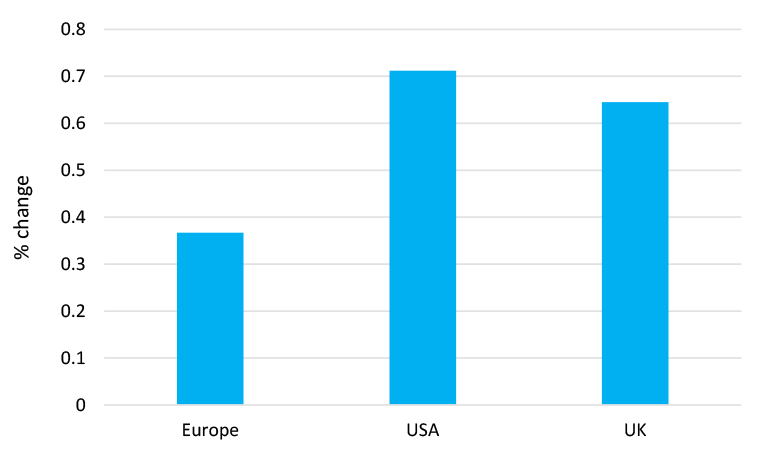 Source: Bloomberg, May 2021
Meanwhile, for credit markets, based on BofA Merrill Lynch Bond Indices, it has been a better year (Figure 2). Spreads have moved tighter in all the represented markets with high yield outperforming on a risk-adjusted percentage basis. Within this, Europe is outperforming so European investment grade has done better than US and GBP credit, and it's the same story in HY, with spreads tighter in Europe than USD.
Markets remain supported by numerous things: policy conditions, both present and expected; likely improving credit quality and decent results; better economic data, with the expectation of more to come; low and falling market volatility; and ongoing demand for income.
The issue here is one of valuations, where spreads in all markets are below averages in the short-term (five-year) and longer-term (20-year). For example, Global IG spreads are more than one standard deviation rich to the short-term average and around 0.6 standard deviations expensive to the long-term measure.
Figure 2: Index spread change YTD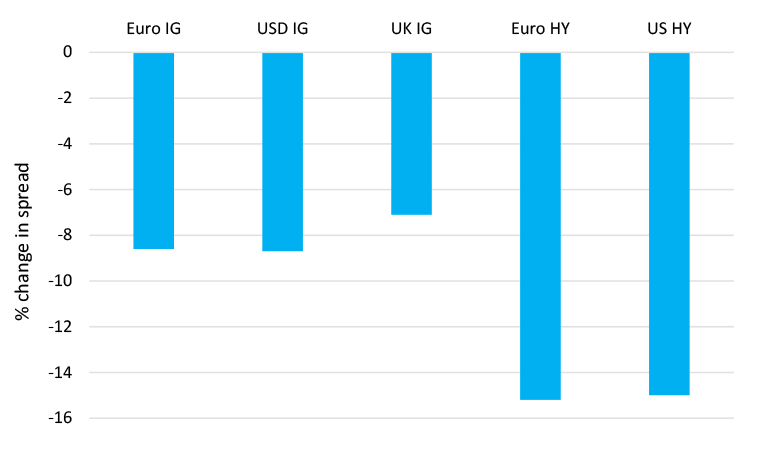 Source: Bloomberg, May 2021
Note: all data as at 6 May 2021, unless otherwise specified. Source: Bloomberg