The world is changing and not just because of climate change. How companies and governments respond to the change will have significant implications, economically and competitively as well as for employment, which we will focus on in this article.
Figure 1: Jobs created per $1 million invested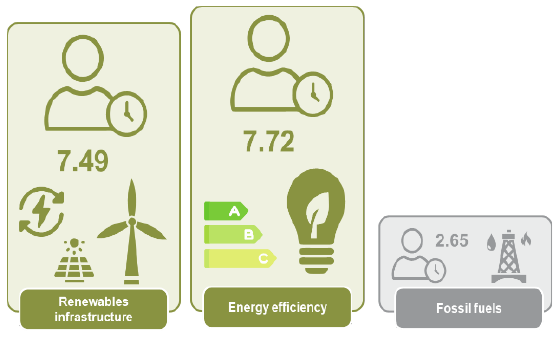 Source: Joseph Stiglitz, et al. 'Will COVID-19 fiscal recovery packages accelerate or retard progress on climate change?', May 2020.
As a research-driven investment house, identifying, analysing and understanding the trends and changes that impact, or will impact, our investments is at the heart of our "thematic" research focus. It was in that context that a recent UK report entitled "Getting to Zero"1 caught our attention. It has been cited under press headlines suggesting that as many as 10 million UK jobs would be at risk from the UK's transition to net zero over the next three decades. Is that really the potential implication of the UK's decarbonisation plan? We think not.
Will net zero boost employment growth?
A good starting point here is a commentary on the report published by Alex Brown at the London School of Economics' Grantham Institute, which raised important questions about it.2 The need for caution about the methodology used, as well as the failure to understand wider changes taking place or the job creation potential of policy responses to climate change, is important.
Current longer-term employment issues do need to be considered in the context of an "industrial" revolution that is already playing out and likely to be accelerated by the effects of the coronavirus pandemic. Digitisation and automation are examples of this and more than 80% of CEOs surveyed by the WEF3 reported that they are accelerating the automation of their work processes and expanding their use of remote work. That has implications for employment, but not the way some people think. Let's start with some context on climate change:
Framing the scale of the economic challenge4 Scientists have estimated that were temperature increases to reach three degrees celsius global GDP would fall 25%. If they reached four degrees the decline would be more than 30% compared to 2010 levels. That is comparable to the Great Depression, but the difference is that the impact would be permanent.
Framing the upside alternative5 I'll start here at a more regional level, given differences that are evident. It has been estimated that the EU's GDP would benefit to the tune of 1.1% by 2030 should it successfully implement the Paris Agreement and transition towards a low-carbon economy. That is merely a result of increased investment activity and lower imports of fossil fuels, before we look at any other benefits.
In terms of employment, the associated upside growth in EU employment is, at the more conservative end of the scale, around 0.5%. That is approaching an extra million jobs compared to business as usual. The employment implications do vary by country, as well as by sector6:
Services sectors, for example, benefit from both increased consumer activity but also as part of the supply chain of renewables and energy efficiency equipment and installation processes. This reflects a strong trend we were seeing in the US before the Paris Agreement withdrawal.
In contrast, the mining sector faces a substantial fall in employment reflecting lower production in the energy extraction sector.
The implications are, of course, not just for employment but also countries' economic competitiveness.
Figure 2: EU employment growth projections by sector
| | |
| --- | --- |
| | |
| | |
| | |
| | |
| | |
| Distribution, retail and hotels and catering | |
| Transport and communications | |
| | |
| | |
Source: FOME energy scenario projections, 2020
However, under the same analysis the US's outlook under the Trump administration, having rejected the Paris Agreement, was not looking so rosy. That stood in stark contrast to what we were seeing ahead of the then president's announced withdrawal from Paris. Compared to the EU's 1.1% boost to GDP, the US faced an estimated 3.4% contraction in GDP by 2030 and a 1.6% hit to its job market.7
The "pre-Paris withdrawal" boost being seen in US economic activity and related jobs growth linked to US climate leadership was clear. With job creation spanning energy efficiency, transportation, renewable energy, waste reduction, natural resources conservation and education, the effect was significant – even before exploring the innovation and job creation being seen across other sectors. At the time it was estimated that in the US such jobs collectively numbered around 4-4.5 million jobs8; and, relative to jobs in coal mining9, many of these were inherently local, contributing to growth in their local economies. Comparing what was being seen with jobs directly associated with US electric power generation the significance of energy transition for US employment was clear10:
Figure 3: Electric power generation employment by technology (Q2 2015-Q1 2016)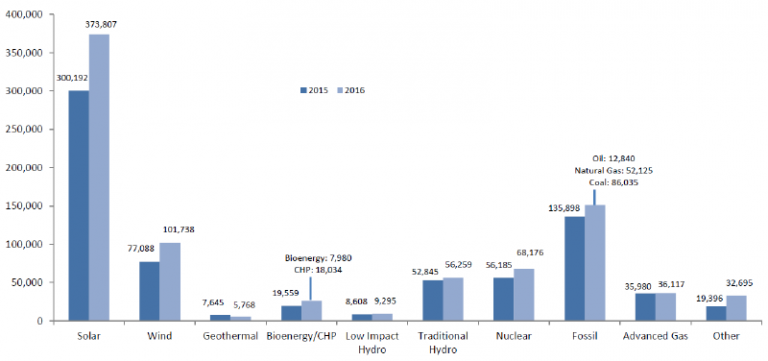 Source: US Department of Energy, US Energy and Employment Report, January 2017
Coming back to the UK's transition to net zero, there are clearly employment implications that were largely in line with the EU average. Rather than there being an impending job disaster, there are in fact very real opportunities on offer for the UK and seizing that in a post-Covid and post-Brexit world will be important.
The UK's adoption of climate-relevant approaches as part of a strategic approach to economic stimulus and recovery11 will have important and positive implications for both job creation and long-term competitiveness. As part of this, the need for policymakers to embrace "inclusive growth", taking account of the trends playing out, should not be underestimated. The rebalancing we expect to see in the jobs market will make active labour market policies (ALMPs12) an important focus for policymakers. The need for, and merit of, initiatives such as the EU's Skills Agenda13 is clear. In laying the foundations to support future competitiveness and address key challenges, the World Economic Forum's work highlights some of the challenges policymakers need to consider (Figure 4).14
Figure 4: Perceived barriers to the adoption of new technologies

Source: WEF, Future of Jobs Report 2020, October 2020
The WEF estimates that by 2025 85 million jobs may be displaced, while 97 million new roles may emerge across the 15 industries and 26 economies it examined – a net gain of 12 million jobs. Education, training and the re-skilling of the workforce will be critical issues in this context. Reflecting that, corporate planning on future investment and operations will be influenced by the availability of the right skills and talent. It is not the companies that embrace change that lose out. As recent historical evidence tells us, companies that automate will survive, prosper and hire more workers. Those that don't will end up shedding staff (Figure 5).15
Figure 5: Robots in the workplace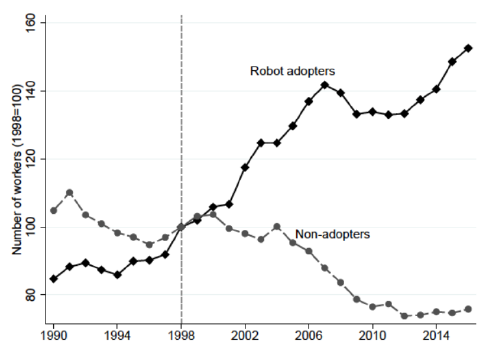 Source: Michael Koch, et al. "Robots and firms", July 2019
The priority for policymakers, then, is how to facilitate the changes needed to support those who will adapt and be tomorrow's winners – this reflects the challenge faced by economies across the OECD and beyond. Although economic outcomes over the past 20 years have varied widely and employment has risen, wages have not only stagnated for many but the costs of housing, healthcare and, notably in this context, education have risen, more than offsetting income gains (Figure 6).16
Figure 6: Consumer costs on the rise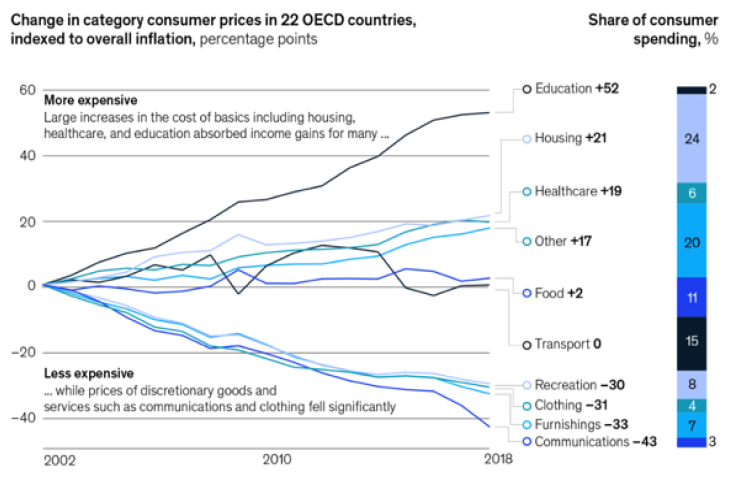 For investors, understanding the issues and challenges companies will face in securing the right skills, expertise and talent needed to respond to these changes will be important. The focus on, and approach to, education and training by policymakers will play an important role in this at a national level.
The right long-term policy approaches, combined with and facilitating forward-looking programs by companies, will help sow the seeds for success. Corporate initiatives such as SSE's Supporting a Just Transition17 or AT&Ts Future Program18 already illustrate strategic approaches to business adaptation and investment in the future. That said, for many companies unilateral solutions – absent the right policy environment and support – may not be viable.
With all these factors at play, one thing that is clear is that the Paris Agreement should not be seen as a threat to employment; if anything the opposite is true. It represents an opportunity – both to mitigate the impacts of climate change, help recovery post-Covid and benefit from real upside opportunities. Our world and economies are already changing – economic, technological and societal change are a reality and the effects of Covid will accelerate the changes we are seeing. Companies and governments will either rise to the challenge they face or fail their stakeholders.
For countries such as the UK, recognising these dynamics and taking advantage of them will be critical to pursuing the right policy options and ensuring their future prosperity and competitiveness.