Environmental sustainability is beginning to affect a company's brand and competitive edge.
Just as anxiety about climate change and pollution mounts, so it is influencing which brands and products consumers prefer. So much so, in fact, that a company's perceived sustainability, including the environmental footprint of its products, is beginning to affect its competitive edge.
In a recent global survey, a huge 81% of respondents felt strongly that companies should act to help improve the environment. The millennial generation, Gen X and Gen Z are most passionate, but their elder peers aren't far behind (see chart).1 Importantly, they are willing to drop brands that do not meet their expectations and find it easier now than ever before to find alternatives that do.
Percentage of respondents who said that it is "extremely" or "very" important that companies implement programs to improve the environment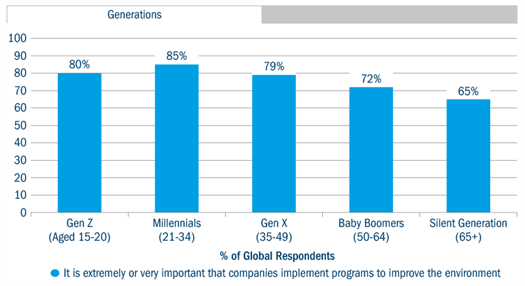 Source: The Conference Board Global Consumer Confidence Survey, conducted in collaboration with Nielsen, Q2 2017. https://www.nielsen.com/us/en/insights/report/2018/the-education-of-the-sustainable-mindset/
Thinking of new technology as disrupting entire industries has become commonplace. Yet corporate environmental practices are also a potential source of disruption. For an asset manager such as Columbia Threadneedle Investments, that judges its long-term holdings by virtue of their competitive edge, the "purpose" of a company – how it seeks to have a positive effect on stakeholders, especially with regard to the environment – is becoming an important factor.
At the centre of Columbia Threadneedle Investments' analytical framework is a model called Porter's Five Forces, named after Michael Porter, the Harvard business school professor who defined them. These five forces help to understand the competitive structure of an industry. As consumers' tastes become more focused on the environmental sustainability of products, so their bargaining power increases. As new entrants emerge to meet these changing demands, and technology enables their marketing and distribution, so rivalry intensifies. Companies can no longer simply rely on a brand's power to support returns.
When it comes to consumer brands, environmental sustainability is both threat and opportunity. Some businesses view it as a danger to their brands and competitive edge that they must adapt to; others see it as an opportunity both to do good for society and for their shareholders. Investors are aware of this and are increasingly asking about how the environment affects stock selection.
Unilever, the Anglo-Dutch consumer goods company, is adapting to changing attitudes and responsibilities, looking to underpin its future brand strength through reducing environmental impact throughout its business. It is acting to manage the potential danger to its brands as consumers become fervent about sustainability. Notably, it aims to make all its agricultural raw materials sustainably sourced by 2020. It's also targeting 100% fully recyclable packaging by 2025. Similarly, Adidas is enhancing its brand among environmentally-aware consumers. In collaboration with Parley Ocean Plastic, it is using recycled ocean plastic to make running shoes. More broadly, Adidas has a target of only using recycled plastics by 2024. For Adidas, making running shoes that help to remove plastic from the sea is an opportunity to grow sales and look after the planet.
Embracing sustainability can also boost a company's competitive edge beyond simply its brand. Turning to a less well-known business, Trex is a US company that has recycling at the core of its business model and is steadily becoming more profitable. Trex manufactures decking from recycled plastic mixed with wood shavings and is one of the largest recyclers of plastic in the United States. Ninety five percent of a Trex deck is made from recycled plastic. In fact, a standard 16-foot (around 4.9 metres) Trex board contains approximately 2,250 plastic bags.
For Trex, recycling has proved exceptionally good business sense. Not only is it doing good for the environment, but also scrap plastic is far cheaper than the virgin plastic used by rivals. Further, a product that is easier to maintain than wooden decking is highly attractive. The result? Steadily rising revenues, a cost advantage over its peers and a growing market share.
If businesses do not act quickly enough to adapt to consumers' growing concern about the environment, they risk seeing their competitive advantages being undermined. These businesses are likely to be the losers over the long term.
In a world where consumer tastes are changing fast, environmental sustainability is becoming an increasingly important theme. In a similar way to ground-breaking tech businesses, sustainability pioneers can gain a powerful competitive edge. If they do that in a way that leads to predictable growth in profits, then they can be compelling investments.
ESG analysis, especially regarding the environment, has become an essential part of the long-term investor's tool kit. That is why companies with "purpose" should have a place in portfolios.